VISP participants are responsible for securing their own housing. UW-Madison offers a limited number of spaces in on-campus housing (dormitories). In addition, many students also live off-campus in the neighborhoods surrounding the University of Wisconsin-Madison.
Learn more about on-campus and off-campus housing opportunities as well as a temporary homestay option for when you arrive in Madison in our section below.
This is an accordion element with a series of buttons that open and close related content panels.
Temporary Homestay when you Arrive
On-Campus Housing
UW-Madison has two types of residence halls depending on a student's academic level: undergraduate or graduate. Spaces are limited in on-campus housing, so apply early for best consideration.
Undergraduate Residence Halls
Traditional dormitories consist primarily of shared rooms and communal bathrooms with individual shower stalls. Residents eat at dining facilities located throughout the campus.
Graduate Student Housing
University apartments serve the needs of visiting researchers, faculty, and graduate students wanting a more independent living situation. Leases are usually 12 months in length, and the apartments are not usually furnished, but check current availability for details.
Off-Campus Housing
Housing Search Recommendations
Having trouble finding a fall-only off-campus housing?
Most apartments in Madison are rented for 9 or 12 month contracts, making it difficult to find a fall-only option. We recommend that fall-only students apply for on-campus housing. If you wish to live in off-campus housing for the fall you may have to sign a 9 or 12 month lease and then find a subleaser to take over your lease for the remaining months. This does carry the risk, however, of not being able to find someone to take over your lease and being responsible for the remaining rent. You can search for subleasers and sublease opportunities via the housing search engines above.
Furnished Apartments
Your housing should be listed as "furnished" or "semi-furnished," which means that they provide some furniture in the apartment for your use. You may be held responsible for any furnished items when you check out of the apartment, so take care not to damage them.
Renter's Insurance
Consider purchasing renter's insurance for your time here in the US to protect your belongings in cases of fire, theft or other disasters. It is available at a low cost from numerous insurance companies.
Madison Housing Map
Sections 1-6 and section 9 on map are the most easily accessible to campus.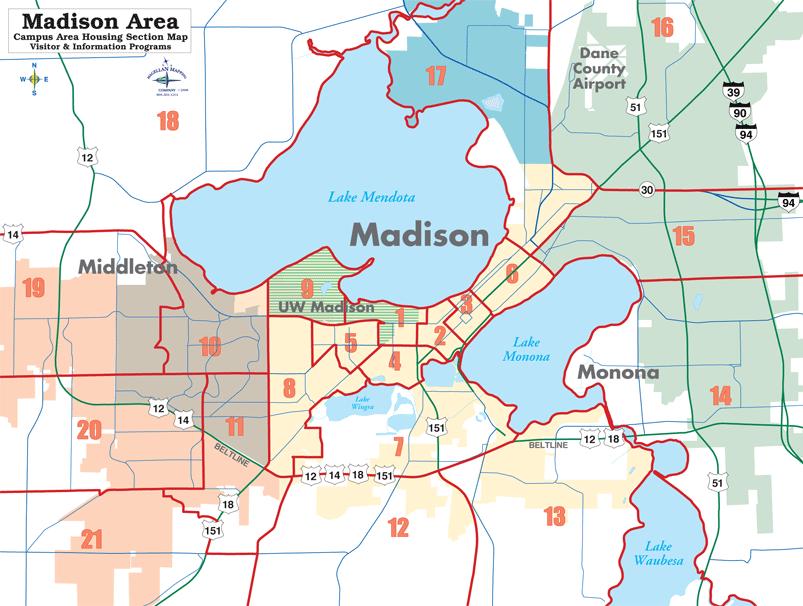 Image provided by Campus Area Housing.