Madison is a beautiful mid-sized city of 265,000 residents that is consistently selected as one of the best places to live in the U.S. Madison is the capital of the state of Wisconsin, and is home to one of the most educated populaces in the United States, with almost 50% of residents above the age of 25 hold an undergraduate degree.
The campus spreads out along Lake Mendota, and encompasses wooded hills as well as lively city streets. Along the scenic lakeshores are peaceful places to study and explore while experiencing the beauty of Madison.
Safety
The city of Madison and the UW-Madison campus community are strongly committed to safety. Madison is regularly ranked one of the top 20 safest cities in America.
Entertainment and Cultural Events
Madison is home to a number of great museums, arts & music venues and festivals, unique local shopping, award-winning restaurants, sporting events, and so much more. Larger metropolitan areas of Milwaukee, Chicago, and Minneapolis are easily accessible by bus.
Outdoor Recreation
Madisonians are wild for outdoor recreational opportunities. Our city is one of the most bike-friendly cities in the United States, and many enthusiasts commute by bike all year around. From skiing and snowboarding in the winter to swimming, sailing, and hiking in the warmer months, Madison has what you are looking for to stay active outdoors.
The Hoofers Student Organization at UW-Madison can help you connect with other students with similar interests, or teach you a whole new skill.
Climate
Madison is located in a temperate climate zone and enjoys four distinct seasons. During the warmest months of June, July and August, high temperatures average 80 degrees Fahrenheit (27 Celsius). Winters are cold with moderate snowfall. In the middle of winter, high temperatures average 25 degrees Fahrenheit (−4 Celsius) though temperatures can fall below 0 degrees Fahrenheit (−18 Celsius). Average annual snowfall is 44 inches (112 cm).
Where is Madison, Wisconsin?
Madison is the capital of the state of Wisconsin. We are located about a two hour drive northwest of Chicago, Illinois.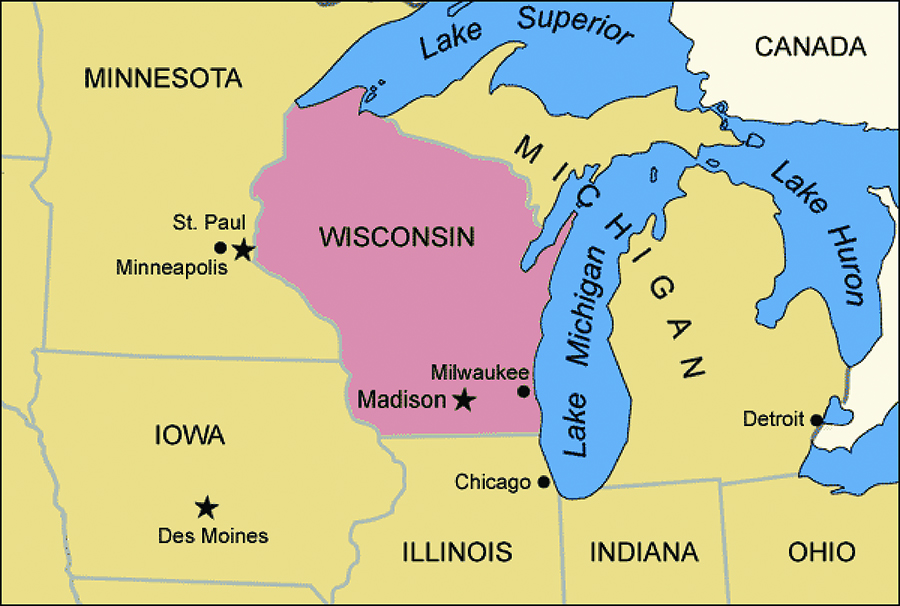 Enjoy everything. Madison is a wonderful city that I'll keep in my memories for a lifetime. Once a Badger always a Badger!

VISP participant
Traveling to and Around Madison
Flying in to Madison
There are two airports with easy access to Madison, Wisconsin.
MSN – Dane County Regional Airport in Madison, WI – A small airport located about 5 miles (8km) from UW-Madison. Taxi rides from the MSN airport to campus cost approximately $25 one way. There is a taxi waiting area outside of baggage claim.
ORD – Chicago O'Hare International Airport in Chicago, IL – While much further from UW-Madison, flights to this airport are often much less expensive. The Van Galder bus service offers daily buses between the airport and UW-Madison. Tickets can be purchased from the driver when you arrive, but please consult the bus schedule prior to booking your flight.
Getting to your Housing
Calling a taxi is the easiest way to traverse the city with luggage in tow. Madison is home to several official taxi services including Green Cab of Madison, Madison Taxi, and Union Cab. Additionally, you can use Uber or Lyft if you have those accounts set up.
If you request temporary housing through Madison Friends of International Students (MFIS), your housing volunteer may be able to pick you up.
Navigating Around Campus
While the campus is large, Madison is a very walkable, bikeable, and easy to navigate city and campus community.
Free City Bus Pass
The Associated Students of Madison (ASM) bus pass program provides free Madison Metro bus passes to all UW-Madison students paying segregated fees (including VISP). The free bus pass is good for unlimited rides on the local Madison Metro bus system anywhere in the city.
Bicycle
Madison is a bicycle-friendly city and the UW-Madison campus is no exception, so biking is a great way to get around. It is easy to park a bike on campus and you will find racks next to almost all buildings. Read about campus bike information from Transportation Services.

B-cycle is a short-term bike rental program. You will see several B-cycle stations throughout campus and the city. Join for a year for a nominal fee and ride free for trips under 30 minutes.
Red Bike Project is a long-term bike rental program. The Red Bike program offers reconditioned bikes (painted red, of course) that can be used on campus and around the community for free!
Walking
Walking is an ideal way to get around campus and experience all its beauty. There are many miles of sidewalks and pedestrian paths including the scenic Lakeshore Path.
At night, use the Lightway Walking Path. In case of emergency, there are over 60 emergency phones are located throughout campus. Most emergency phones have a blue light above them and are labeled "911-Emergency." You can also utilize SAFEwalk when traveling in the campus area at night.